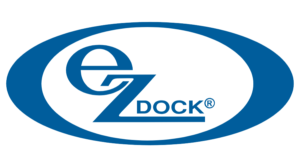 Oregon Marine Construction is a Premier Distributor of the EZ Dock System in the Northwest
The first dock of its kind, the last dock you will ever need.
EZ Docks are nearly indestructible and have a long list of accessories to customize the docks to fit your business or home.
Why EZ Dock?
Oregon Marine Construction has been an EZ Dock Dealer since 2003. With our marine construction background, we are uniquely positioned to both sell and install EZ Docks.  
Durable
EZ Docks are extremely strong and outlast wood 2-3 times…
EZ Dock is the most durable floating dock system available today and the combination of the patented structure (picture of poly truss frame) and unique coupler system enables the dock system to withstand both severe weather storms and ice conditions.
We provide an eight year replacement warranty that is not prorated, the dock is replaced with a new dock if there is a failure. EZ Dock was the first system of its kind when introduced 21 years ago and we have docks that remain in the water today still providing exceptional service.
Since the product has only been available for 21 years it is difficult to forecast the actual life cycle of the EZ Dock system and eventually UV light will start to affect the docks. We believe the useful life of the EZ Dock System will be two or three times the life expectancy of wooden and other dock solutions however it maybe thirty more years before we have documented experience.
And stability? Need we say more?
Environmentally Friendly
EZ Docks are safe for any environment…
EZ Dock is the only dock permitted in sensitive environments like Adventure Aquarium – home to over 1,000 fish, rays, and sea turtles. Or, The Nature Conservancy on the Maurice River – used for an Eagle Observation Post. Since the dock system is made completely of polyethylene, there is no treated wood or metal to contaminate your environment.
Ice Friendly
No need to remove your EZ Docks in the winter…
EZ Dock system is designed to remain in the water year-round. Since it requires only 1.5" of water to float, in freeze conditions the docks "pop" to the top and sit on the ice eliminating any concern of the docks being damaged.
One of the many reasons camps have switched to EZ Dock is the elimination of the maintenance issues of removing the docks in the Fall and re-installing them in the Spring. Not only does this take significant resources, but the docks are also often damaged in the process.
If you experience ice flows on a river the docks should be removed since ice flows will take docks, pilings, and anything else that is in the way. If you experience ice movement in a lake you simply unhook the anchor points from the dock and pull them along the edge of the lake secured with dock lines. As long as the docks are not anchored they will survive ice movement in a lake. Connecting them to the anchor points in the Spring is a very simple process.
No Maintenance
A complete environmentally friendly, poly system…
There is nothing to maintain – it is a complete poly system. A powerwash once a year brings the docks back to their original condition. Since ice has no effect on the EZ Dock system – the docks can remain in the water year-round.
Stable
A half mile walkway with hundreds of people…
EZ Dock offers the most stable floating dock system available today. This installation required a very stable 1/2 mile walkway across a lake with railings and they added red carpeting for the international meetings held at this facility.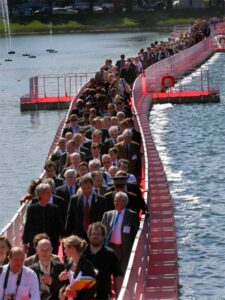 Unlimited Accessories
Customize your EZ Docks to fit your lifestyle…
Picture a dock with bench, umbrella, dock box slide – no other dock system today offers the many accessories for a dock system. It is the dock system that "keeps on giving". Need a birthday present for someone hard to shop for – an anniversary present, etc.? How about a nice bench. swim ladder, or umbrella bracket and umbrella, a dock box, boat bumpers, cleats, fish cleaning station, utility channel for water and power, kayak rack, sliding board, and many others!
Check out our full line of accessories!
Safe
Skid resistant, no nails or screws…
Picture your kids on the docks – no wood to splinter, no nails or screws or metal braces to cut, and a skid resistant surface provides the safest dock available today.
Versatile Modular Design
EZ Docks are infinitely configurable…
Consider the EZ Dock System and treat it as an adult Lego System… the docks can be reconfigured by moving couplers and docks. Your existing docks can be rearranged or you can add to them easily. Changes take place in hours, not weeks or months.